ANNOUNCEMENTS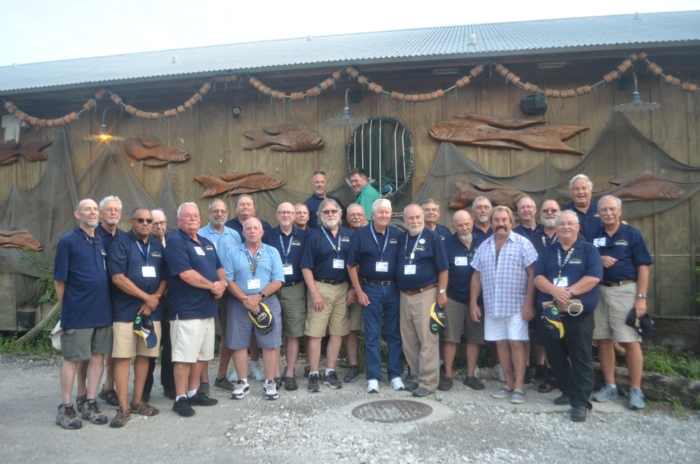 The Crew at Clark's Fish Camp
L-R Jerry Foley, Myron Carter, George Robinson, Roger Kane, George Hastings, Bob Meritt, Bill Norris, Rich Toma, Vic Hellberg, Al Pillman, Lee Solt, Kyle Stafford, Robert Miller, Charles Caudill, David Caldwell, Al Kaspar, Danny Abner, Don McVey, Jim Brantley, Jim Pease, Dan Justynski, Charles Rudd, Ray Pierce, David Holton and Mark Giraldi.
EXTRA EXTRA READ ALL ABOUT IT
USS Seattle AOE-3 to get Museum
When you think of U S Navy ship museums, submarines, aircraft carriers and battleships come to mind and rarely is there mention of the auxiliary ships that supply them with the bullets, beans and black oil needed to keep them operating.
The Puget Sound Naval Museum in cooperation with Bremerton, WA and the USS Seattle Veteran's Association has agreed to have a wing in their museum dedicated to the USS SEATTLE AOE-3. Right now, late summer of 2020 is our target date for the grand opening. During this next year the USSSVA will have the task of collecting and documenting as many artifacts as possible to put on display.
Some of the items we are looking for include but are not limited to…
…Cruise Books, Ensigns-Jacks-Signal Flags,
…Lighters-Belt Buckles-Coffee Mugs, Pictures-Videos,
…Holiday Dinner Menus-Newspaper Articles-Newsletters-Pamphlets
…Location Placards removed from office doors or work stations,
…Spent Shells Casings from Weapons
or anything that was to be disposed of because it was replaced.
We are calling on all shipmates to help us out and be part of preserving the history of the USS Seattle. Please contact me or any other officer of the USSSVA if you have anything you would like to donate or loan to the museum. If your artifact is put on display, you will be recognized as the donor.
Please pass this on to any shipmates you are still in touch with and if you have any information about the location of our screws, anchors or links of chain… please contact us.
More information will be available as we move along with this endeavor.
Contact any officer for further details.