The Chief
Chief Seattle, considered the greatest of all Puget Sound Indians, was born at the campsite of his ancestors on Blake Island in 1786. His father was Chief Schweabe of the Shuguamish tribe.
Chief Seattle was seven years old when Captain Cooke, in the sailing vessel VANCOUVER, discovered and explored the Puget Sound. Pioneers first landed at eh Alki Point on September 28, 1851, near the site of the present city of Seattle. Because the native pronunciation of his name was too difficult for English-speaking peoples the name Sealth or Seattle was suggested by a local physician, Dr. Maynard.
Relations between the Indians and the settlers were peaceful from the start of the colonization period. The settlers thought so much of Chief Seattle that they named the new community after him. The relations with the Indians remained peaceful until 1855 when a tribe of the White River district rebelled over an unfair treaty. The attack against the settlers of Seattle was repelled with the aid of the steam barque DECATUR. Throughout this violent period Chief Seattle remained a steadfast and loyal friend of the settlers and encouraged the Indians to remain peaceful.
In 1864 Seattle helped the settlers organize a salmon fishery which provided paid employment for his people. Throughout his life he encouraged his people to maintain peace with the White race and to obey the laws of the new government in Olympia.
In his later years, Chief Seattle was baptized and adopted the Christian name of Noah. The last years of his life were spent at Port Madison Reservation and Agate Point on Bainbridge Island. He died in 1866.
The Crest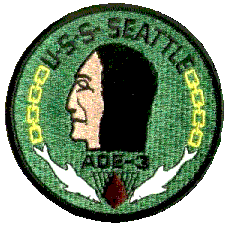 The crest of USS SEATTLE is composed of four major elements:
1. The profile of Chief Seattle,
2. A pine cone with needles,
3. A pair of dolphins and
4. Two lengths of chain.
These elements hold special meaning for the residents of the Seattle area.
The pine cone and needles represent the evergreens
of Washington, the Evergreen State.
The dolphins, traditional emblems of the sea, represent the waters of the area surrounding Seattle
and the close association of the city with the resources and commerce of the vast
Pacific Ocean that lies on its doorstep.
The chain, which is the traditional symbol of both strength and the nautical profession,
links the USS SEATTLE to the city of Seattle.
This ship's crest is adapted from the official seal of the city of Seattle. It was designed by
Mr. James A. Wehn, who resides in Seattle and was officially adopted by the city in 1936.