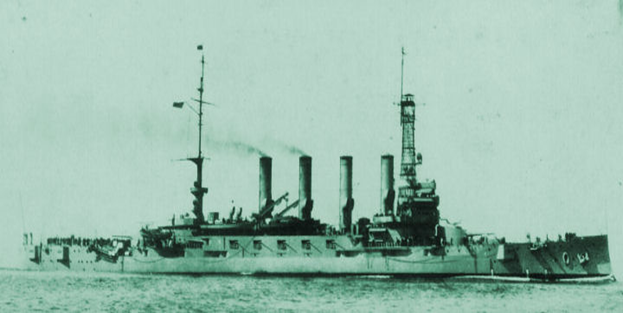 The first SEATTLE (Armored Cruiser Number 11), originally named USS WASHINGTON, was built by the New York Shipbuilding Corporation, Camden, New Jersey. Her keel was laid on September 23, 1903, and she was launched on March 18, 1905 under the sponsorship of Mrs. Green Clay Goodlow, daughter of the senior United States Senator from the State of Washington, Mr. John L. Wilson. The cruiser was delivered to the Navy at Philadelphia on July 30, 1906.
The ship's characteristics were: Length 504 feet; beam 73 feet; displacement 14,500 tons; draft 35 feet; speed 22 knots; and a complement of 42 officers and 814 men. She was armed with four 10-inch, sixteen 6-inch guns and four 21-inch torpedo tubes. Her armor was nine inches thick.
On November 9, 1916, Armored Cruise 11 was renamed USS SEATTLE and the name USS WASHINGTON was reassigned to a new battleship.
USS SEATTLE was in the New York River, Virginia when the United States entered World War I, and in June 1917 she was the flagship of the first convoy to take American Expeditionary Forces to France and was the target of the first hostile attack on U.S. sea forces. All told, USS SEATTLE made nine consecutive convoy escort voyages to Europe during World War I. Following the Armistice, she became a "magic carpet" for the return home of thousands of veteran sailors and soldiers.
Following this duty and several peacetime cruises while assigned to the Atlantic Fleet, she became a receiving ship in New York in 1927 and remained so until 1946, when her name was struck from the Navy list and she was sold for scrap in December.