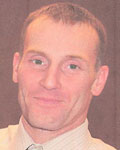 LEWISTON - Troy Alan Tracy, 37, of Skowhegan, died on August 18, 2012 at CMMC in Lewiston following a short illness.
He was born on October 21, 1974 in Farmington, the son of Dwight Tracy and Nancy (Collins) Tracy. He was educated in the schools of SAD 9, graduating from Mt. Blue High School in the class of 1993. He served in the US Navy from 1995 to 2003 as a machinist 2nd class and was stationed in Groton, Connecticut. He was employed at H.P. Fairfield in Skowhegan.
Troy enjoyed hunting, fishing, and watching Nascar and football.
He is survived by; his mother, Nancy Tracy of Farmington; his sons, Izaiha Tracy of New Sharon, Zachery Tracy of New Sharon, Gage Tracy of New Sharon, and Leucas Turner of Connecticut; one sister, Crystal Smires of Barnet, VT; one brother, Olen Boulette of Farmington; two nephews; one niece; many aunts, uncles, other family and friends. He was predeceased by his father, Dwight Tracy.
Donations may be made in Troy's memory to the Maine Cancer Foundation, 170 US Route 1, Suite 250, Falmouth, ME 04105.