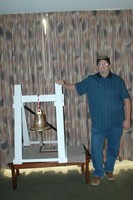 USS Seattle (AOE-3) Veteran's Association
Ships Crews of 1969 - 2005

Shipmates, it is great sadness I have to tell you George Carter, USS Seattle plank owner, was killed last night close to his home in Louisiana. Here are the details I have now and will post more as I get them...

New Iberia man dies in fiery wreck
May 11, 2014

A New Iberia man died Saturday night after his vehicle veered off the side of La. 318 in St. Mary Parish, struck several trees and caught fire.
Trooper First Class Stephen Hammons said the St. Mary Parish Coroner's Office pronounced George Carter, 65, dead at the scene.
Troopers are still investigating the crash, but think Carter's 2009 Dodge vehicle ran off the left side of La. 318, near Gibbs Road, about 6:40 p.m., before hitting the trees and catching fire, Hammons said.
The crash remains under investigation.

Please keep George's family in your prayers...