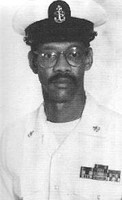 Richard Lee "Sonny" Williams
Navy Lieutenant (Ret.) Richard Lee ''Sonny'' Williams departed this life at Meadowcrest Hospital on Saturday, May 1, 2004. Age 56 years. A native of Shreveport, LA. and a resident of Harvey, LA. Relatives and friends and employees of Space and Naval Warfare Systems Command (SPAWAR), U. S. Naval Support Activity Center, NASJRB (Belle Chasse) New Orleans, are invited to attend the memorial service from Chapel of Care (Naval Support Activity), 2300 General Meyer Ave., New Orleans, LA. on Friday, May 7, 2004 at 11:00 A.M. Elder William Lacy officiating. Interment: Will be private. Arrangements by Davis Mortuary Service 230 Monroe St. Gretna, LA.
Sonny will be always remembered - Never Fogotten
Michael Brandau, PN1, USN (retired).