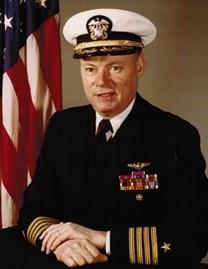 Theodore Leighton Lloyd Jr.
September 3, 1929 - August 24, 2011
Theodore Leighton Lloyd Jr, 81 of Locust Grove passed away at his residence on Wednesday, August 24, 2011. He was a retired US Navy Captain, a member of St. Patrick's Catholic Church and a fourth degree member of the Knights of Columbus. He is survived by his wife, Parigul; three sons, Theodore Lloyd of Connecticut, John Lloyd of Fredericksburg, and James Lloyd of Lusby, MD; four step children, Nilofar, Liza, Brian, and Mustafa Hashim all of Fredericksburg; ten grandchildren; and one great grandson. He was preceded in death by his first wife, Mary Louise Lloyd, his parents, Theodore and Cecelia Lloyd, and his sister Edna. Captain Lloyd enjoyed a distinguished military career as a WWII veteran, 1953 graduate of the US Naval Academy, and as a naval aviator. He served his country proudly through three tours of duty in Vietnam aboard USS Constellation and USS Oriskany where he earned multiple decorations. Capt. Lloyd was the last commanding officer of Attack Squadron VA-23, The Black Knights, and subsequently served as commanding officer of USS Seattle, AOE3.
http://obits.dignitymemorial.com/dignity-memorial/obituary.aspx?n=Theodore-Lloyd&lc=7534&pid=153301192&mid=4792434&locale=en-US