Friday Night Speaker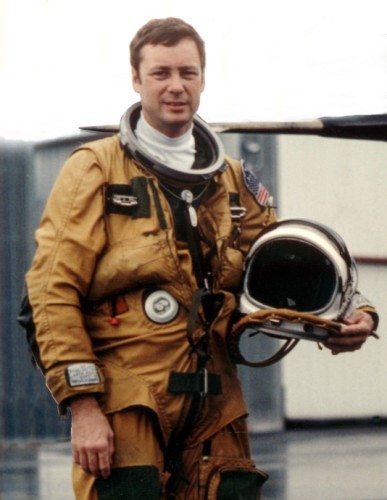 B.C. Thomas was named an "Outstanding Graduate" of Denison High School in Denison, TX and delivered the commencement address to 2014 graduates of DHS.
After graduating from SMU with a B.S. in mathematics in 1964 and an M.S. in statistics in 1966, Thomas entered the United States Air Force and served a 22-year career as a military pilot, attaining the rank of Lieutenant Colonel. His service career includes a combat tour in Vietnam, graduation from the Air Force Test Pilot School and 11 years as an operational reconnaissance and test pilot in the SR-71, the world's fastest and highest flying aircraft.
He logged more flight hours in the SR-71 than any other pilot and is the only person to have flown all three U.S. Air Force high-altitude (above 60,000 feet) reconnaissance aircraft: the RB-57F, U-2 and SR-71 Blackbird.
Following his retirement from the Air Force, he was a flight test engineer for the Northrop B-2 Stealth Bomber. He also served as a flight test captain for United Airlines, flying the airline's entire fleet of commercial aircraft. Among his many flying accomplishments was to land a 727 at Meigs Field to be placed in the Chicago Museum of Science and Industry on a runway one third the length allocated for 727, see the video below.
After retiring from United Airlines, he taught High School mathematics for 3 years.
Thomas lives in Foster City, CA. close to Doc
Additional info about the Lockheed SR-71 Blackbird
The Lockheed SR-71 was an advanced, long-range, Mach 3 strategic reconnaissance aircraft developed from the Lockheed A-12 and YF-12A aircraft by the Lockheed Skunk Works. The SR-71 was unofficially named the Blackbird, and called the Habu by its crews. Clarence "Kelly" Johnson was responsible for many of the design's innovative concepts. A defensive feature of the aircraft was its high speed and operating altitude, whereby, if a surface-to-air missile launch were detected, standard evasive action was simply to accelerate. The SR-71 line was in service from 1964 to 1998, with 12 of the 32 aircraft being destroyed in accidents, though none were lost to enemy action.
https://www.youtube.com/watch?v=-1250fZuhUg
BC Thomas SR 71 w/ Jiggy Jaguar Ks Cosmosphere Hutchinson KS 8/24/2012
https://www.youtube.com/watch?v=tgP_p75Nb3U
727 Landing Meigs Field, Chicago Museum of Science and Industry
https://www.youtube.com/watch?v=NV4tgjSPgks
SR-71 Cockpit Checkout
https://www.youtube.com/watch?v=tj9UwKQKE3A
Saturday Banquet
David C. Dykhoff
Captain (ret), United States Navy
Captain Dykhoff grew up in West Virginia and attended Case Western Reserve University in Cleveland, Ohio. He was commissioned though the Aviation Officer Candidate program in Pensacola, Florida.
Captain Dykhoff's operational background includes tours with two F-14 Tomcat squadrons (VF-154 and VF-24) and assignment as Operations Officer for Carrier Air Wing Nine, Executive Officer and Commanding Officer of Strike Fighter Squadron 97 flying the FA-18 Hornet, Executive Officer of USS NIMITZ, Commanding Officer of the fast combat support ship USS SEATTLE, (AOE 3), and Commanding Officer of USS GEORGE WASHINGTON (CVN 73). During his command tour with VFA-97, the squadron won awards for excellence in ordnance handling, aircraft maintenance, carrier landing excellence (Top Hook), and battle efficiency. Captain Dykhoff participated in the closing phases of Operation Desert Storm, and during subsequent deployments to the Arabian Gulf participated in several different phases of Operation Southern Watch. During his tour in NIMITZ, the ship emerged from the first-ever refueling of a NIMITZ-class carrier, transited around South America as she changed homeports from Norfolk to San Diego, and returned to full operational capability. During his command tour in USS GEORGE WASHINGTON, the ship prepared for transfer to the forward deployed naval forces in Japan, and transited the Strait of Magellan en route to Yokosuka.
In the late 1980s, Captain Dykhoff managed F-14 flight testing at the Navy's aircraft test center in Patuxent River, Maryland. Projects in which he was involved included tests to determine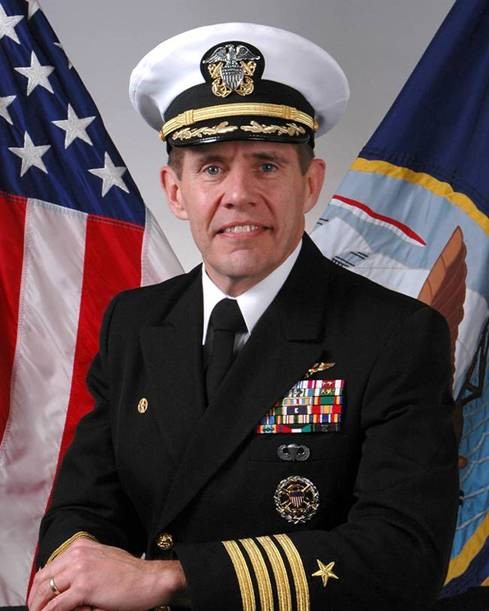 the high speed flying qualities and carrier suitability of the F-14B Super Tomcat before it was delivered to fleet units. Captain Dykhoff was instrumental in resurrecting the ground attack mission for the Tomcat when he served as project officer for that evolution, dropping bombs from the F-14 for the first time at Patuxent River since the early days of the Tomcat program.
Captain Dykhoff served as Flag Lieutenant to Commander, U.S. Sixth Fleet when that position was held by then Vice Admiral Joseph Prueher. During this tour Captain Dykhoff was selected to serve as the NATO liaison officer to the United Nations Bosnia-Herzegovina Command in Sarajevo, where he co-authored the air operations order used to lift the siege of Sarajevo in February 1994.
Between his squadron and ship command tours, Captain Dykhoff was ordered to the Joint Staff in the Pentagon. Working in the operations directorate in the Central Command area of responsibility, he was closely involved in the briefings and staff work necessary for the successful execution of Operation Desert Fox, in addition to having primary responsibility for other classified projects. Other staff positions in which he has served include Readiness Officer for Naval Air Forces, and Chief of Staff, Naval Air Force, U.S. Atlantic Fleet.
Captain Dykhoff is a graduate of U.S. Air Force Air War College, U.S. Navy Test Pilot School, U.S. Navy Fighter Weapons School (TOPGUN), Joint Forces Staff College, Air Command and Staff College, and Naval Nuclear Power and Prototype Schools. He holds a Bachelor of Science degree in Electrical Engineering and Applied Physics, and a Master of Science in Systems Engineering. He is authorized to wear the Legion of Merit, Joint Meritorious Service Medal, Meritorious Service Medal, Air Medal, Joint Commendation Medal, Navy Commendation Medal and other awards.
Subsequent to retiring from the US Navy, Captain Dykhoff owned and operated a small business, worked as a consultant to a program designing the first drone to operate from aircraft carriers, and served as Director, Modeling and Simulation for the US Missile Defense Agency.